ALTOCHEM CO., LTD.

is a company who made
Synthetic orthopedic casting tape & splint

We have made a valuable history with our goods and mind.
We hope we can create more powerful history with you.
ALTOSPLINT™


FEATURE
Neat appearance
- Side of ALTOSPLINT™ pad is sealed by ultrasonic wave to give neater and smarter appearance.
Strength
- ALTOSPLINT™ has superior strength.
Moulduability
- ALTOSPLINT™ is very easy to shape the contours of the human body.
---
Superb X-ray permeability
-ALTOSPLINT™ has superb X-ray permeability, which allows taking X-ray with the splint.
A Variety of Sizes
- ALTOSPLINT™ provides 5 and 9 different sizes in Roll Type and One Step Type respectively
No-needle sprouting problem
- When fiberglass was cutting, Some other fiberglass wouldl be sprouted up and became painful needles. However ALTOCHEM fiberglass has treated unique heat treatment, It does not leave any of hazard
---
ALTOSPLINT™ no need to wear gloves for application.

ALTOSPLINT™
20years technical experiences / 25 countries exporting record
Korean military hospital supplier for two years in a row
overseas local site installation for manufacturing machine.
Fiberglass / Polyester / Non-woven substrate
ALTOSPLINT™ is a synthetic orthopaedic product intended for the emergency and temporary use.
Its outside pads are non-woven fabric and the inside is 7~8 layers of fiberglass or a single layer
of non-woven substrate impregnated with water-activated polyurethane resin.

Exposure to any moisture will cause the splint to become rigid.
The setting time is approximately 4 minutes and it takes
20 minutes for weight bearing.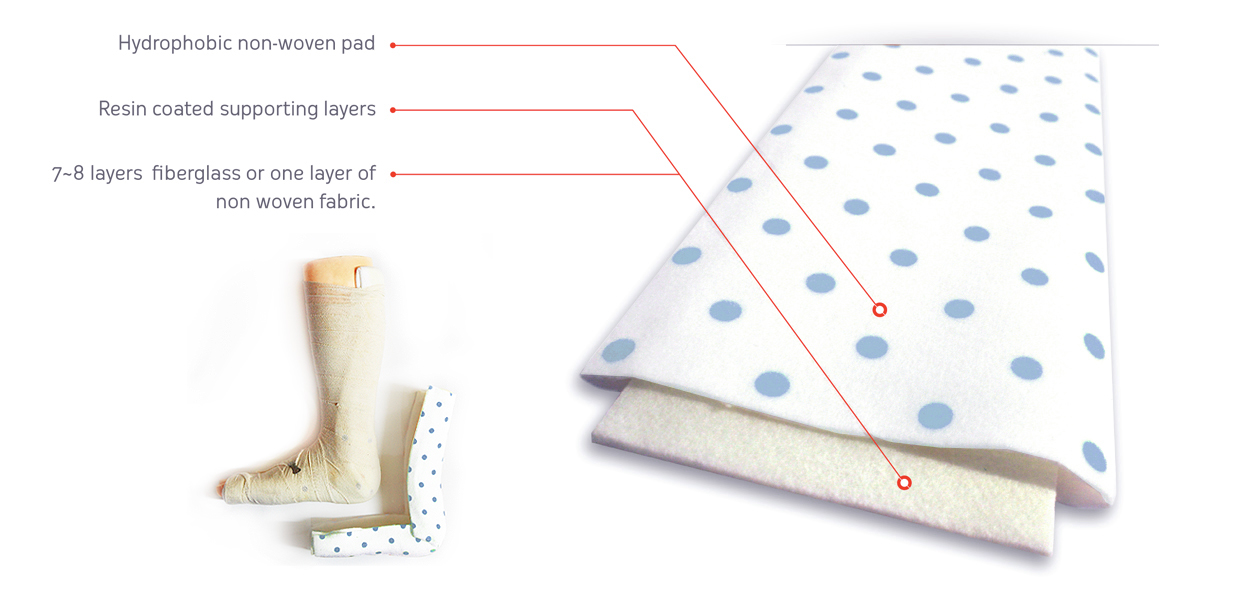 1. ALTOSPLINT™ does not require gloves for application.
2. ALTOSPLINT™ has superb x-ray permeability, which allows taking x-ray with the splint.
3. ALTOSPLINT™ makes it easier to shape the contours of the human body especially bony prominences such as joints, elbows, ankles and heels.
4. ALTOSPLINT™ roll type is economical sine you can cut the roll as long as you require.
5. ALTOSPLINT™ pre-cut type is simple to use it has various lengths.

No needle-sprouting phenomenon
When cutting, fiberglass sprouts up and becomes painful needles but our unique heat treatment leaves no hazard.


ALTOSPLINT™ Order information